INTRODUCTION
Elating the aroma of the new year with fresh fragrances of the welcoming Spring this month of February, with soothing celebrations of this lovely season when nature renovates itself, preparing herself for another long interesting story, and we are delighted to have chance to narrate the story of this season which is reflected in its fiestas, via following the list of festival at your disposal.
February 1, Mauni Amavasya
Observed as one of the most sacred days in the Hindu calendar, Mauni Amavasya or Maghi Amavasya, is observed with great devotion across India. Mauni Amavasya is the day of silence when Hindus pledge not to utter a word throughout the day  which means 'absolute silence'  and hence all who observe the day try to stay silent. This day it is auspicious to bathe in river Ganga as this is the last Amavas before Maha shiv ratri, to get blessings of mother Ganga.
February 4, World Cancer Day
Cancer, the most commonly occuring and deadly disease our world suffers from till date, to spread awareness about it throughout the globe, World Cancer Day is celebrated. On this day, health organizations, governmental agencies and cancer awareness groups organize camps, awareness programs, seminars and lectures all over the world to educate people about Cancer, its symptoms, stages and available cure and care. To show solidarity and support to the suffering cancer patients, today we can find almost every global agency such as google, take over color Pink, and donations are made to support the cause.
 February 5, Vasant Panchmi
Celebrated by Hindus and Sikhs, Vasant Panchami marks the beginning of Springs, hence a fragrance of new beginnings and hope blooms everywhere. On this day a grand pooja for Goddess Saraswati is held at temples and houses, requesting guidance and wisdom from the goddess of wisdom and springs, Hence, this day is also known as Saraswati pooja. This festival is celebrated in different ways by people of different regions but all with the same heart and enthusiasm of welcoming the springs.
February 14, Valentine's Day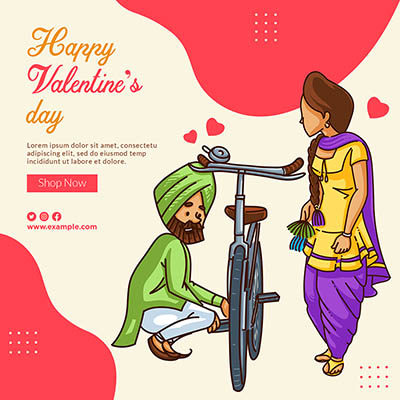 14 February, Valentine's Day, a day which has its origins from the west, found its home in India as people grow fond of this day and eagerly wait every year to celebrate and purpose their love every year. This day  follows a valentine's week where a person gifts to his/her lover showing their affection for their lover. This day is celebrated by full enthusiasm and can be quoted with "love is in the air".
February 16, Guru Ravidas jayanti
February 16, Birth date of Guru Ravidas, a saint worshiped by many all over India, thanking him for his works and efforts against casteism. He was a spiritual man, to show him gratitude, his worshipers take a dip in holy rivers, Nagar Kirtan, langar and pooja in his name are organized and conducted at Ravidassia temples and bhawan by the devotees, giving proper celebration to the great man's birthday.
February 18, Taj Mohotsav
Taj mahotsav, one of the most eagerly awaited festivals of India, celebrated from 18th February to 27th February every year near eastern gate of Taj Mahal at Shilpgram. This Carnival lasts for 10 days spreading the vibrance of Indian arts, dance, music, cuisine and culture. The festival starts with a road procession with decorated elephants and camels just like victory possessions like victory processions of Mughal emperors and warlords. Drum beaters, trumpet players, folk dancers, skilled craftsmen and artisans also join the procession. Artists from all over India come here to display their art and craftsmanship, commemorating the birth anniversary of Mughal emperor Shahjahan.  Swim in this joyous festival of the year.
 February 19, Shivaji Jayanti
This year India observes 392nd Birth Anniversary of Chhatrapati Shivaji, An Indian hero from golden verses of Indian history, Shivaji was a person even his enemies respected for his wit and bravery and was extremely popular among public for his kind and sacrificial behavior for his motherland. Shivaji Jayanti is often celebrated with many colorful parades and public shows that chronicle his life, this day public holiday is observed in state of maharashtra and his statues are renovated and his tales and folktales are narrated  to honour the great personality.
26 February, Maharishi Dayanand Saraswati Jayanti
on the 26th day of february, the birthday of Maharishi Dayanand Sarswati is celebrated,  taking pride and honor in celebrating this day for the great spiritual leader who preached the importance of equality, non violence and service to mankind, whole india shares enthusiasm in commemorating this day to his values and teachings, by organizing Havans and chanting of mantras in the Arya Samaj schools across India.
26 February, Vijaya Ekadashi
A Grand day for the devotees of Lord Vishnu, Vijaya Ekadashi  is celebrated all over india. This festival also holds prominence with the life of Lord Krishna, the supreme avatar of Lord Vishnu. To celebrate this holy day, the devotees showcase their dedication towards lord Vishnu with a grand fast on this day with a lot of respect and devotion. This grand day stories of lord krishna is narrated, to spread goodness in the environment.